Notice
30 cities and counties in Gyeonggi-do discuss and cooperate on carbon neutrality
: 1
: 관리자 : Tue, 6 September 2022, 12:00 AM
30 cities and counties in Gyeonggi-do discuss and cooperate on carbon neutrality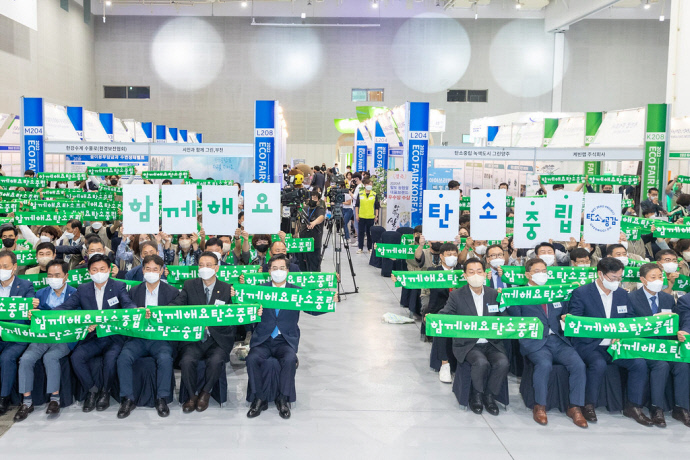 The governor of Gyeonggi-do announced a 'declaration for establishing a promotion system for Net-zero and joint cooperation' with the mayors of Gyeonggi-do and had a signing ceremony at the ECO FAIR KOREA 2022.
The declaration contains the following ▶ Efforts to drastically reduce greenhouse gases through conversion to new and renewable energy reflecting geographical and social characteristics ▶ Expansion of green buildings, green transformation of industries, expansion of eco-friendly vehicles and charging infrastructure ▶ Efforts to promote various policies, such as promoting the welfare of the energy vulnerable and expanding carbon sinks such as net-zero forests ▶ Formation of the Net zero Council in Gyeonggi-do and efforts to raise joint funds to realize carbon neutral policy through a just transition ▶ Strengthen administrative and financial support for smooth implementation of carbon neutral policy.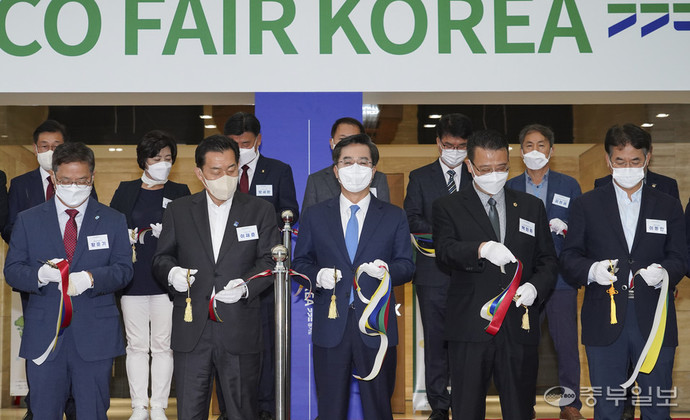 This joint cooperation declaration emphasizing cooperation for Net zero between metropolitan and basic local governments is the first in the country.
Following the joint declaration, the launching ceremony of the Gyeonggi-do Carbon Neutral Citizens Promotion Team was held. The Gyeonggi-do Carbon Neutral Provincial Citizens Promotion Team is composed of about 300 Gyeonggi-do residents. In the process of establishing and promoting Gyeonggi-do's net zero policy, it will play a role of public-private governance.
The governor of Gyeonggi-do also attended the opening ceremony of the 'Clean Air International Forum' and had time to solidify cooperation and promotion partnerships with 17 member countries and regions to create clean air in the Asia-Pacific region.
He arrived at the venue by taking the hydrogen bus "Elec City" developed by Hyundai Motor Company from the Gyeonggi Provincial Office parking lot to the Suwon Convention Center. Yoon Seok-hyun, executive director of Hyundai Motor Group, was on board and introduced the carbon reduction effect of hydrogen buses and their potential as a future means of transportation.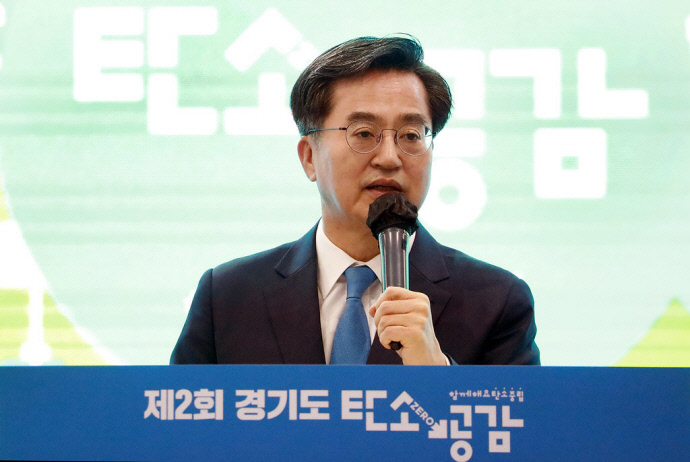 He said "we will reduce greenhouse gases emissions by 30% by 2030 and achieve carbon neutrality without worrying about greenhouse gas emissions by 2050 so that future generations can feel the seasons, cope well with various climate disasters, and live happily"and "We need to ensure that benefits such as new and renewable energy and hydrogen buses reach all residents of Gyeonggi-do evenly." and "To this end, Gyeonggi-do will prepare for climate change with a strong will by creating a 'Special Committee on Climate Change'."
Eco Fair Korea 2022 ran for three days from September 5 to 7 at the Suwon Convention Center under the theme of "Sustainable Future, Carbon-Neutral Gyeonggi." Gyeonggi Carbon Zero, the Clean Air International Forum, and the Gyeonggi Environment Safety Forum were also held during the fair.


Sueon Kim/soounchu@joongboo.com
Back to list